Homeshoring has been there for some years now in the BPO outsourcing industry and it seems that it is here to stay for a long time. It is predicted that the number of home-based agents in the US will rise to 330,000 by 2010. Homeshoring, also popular as homesourcing, involves
BPO services
that are provided by virtual agents who work from home. The call center employees sitting in the office do not provide these services. In their place, home-based agents with appropriate telephone and Internet facilities do all the works outsourced to them by a particular company. Homeshoring is, in fact, a combination of outsourcing and telecommuting. However, homebased agents are required to come to an office for training from time-to-time.
Job Opportunities for 'At Home Agents'
The work-at-home job opportunities vary on the basis of
call center types
. However, most of the home-based virtual agents are required for
customer service
. Some companies hire work-at-home agents on a regular basis while others hire home-based agents on a seasonal basis such as the floral companies, or holiday shops. Some of the job opportunities for work-at-home agent include:
Inbound call center services
Inbound technical support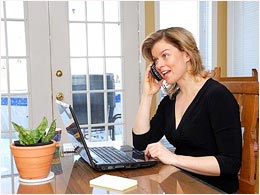 Benefits of Homesourcing
Homeshoring jobs are benefcial for people who want flexible jobs and those who cannot leave home to go to offices such as stay-at-home moms, retired persons, disabled persons etc. For employers, homeshoring means direct cut in overhead expenses. Some of the advantages of homeshoring for employers include recruiting and retaining skilled staff, improved morale, environmental benefits, reduced overheads and increased opportunities for the disadvantaged in society.
Employee loyalty- As the work at home agent willingly choose the work environment, they are more satisfied and prove to be loyal and dedicated workers.
Reduced Overhead Costs- Most of the time, the home based agents work with their own telephone equipment and computer systems. This results in reduced investment in capital infrastructure including office space. However, when the home based workers are required to be connected to all the call center's systems and software, the company has to provide the necessary equipment and other required things.
Corporate Social Responsibility- With the increasing awareness about carbon footprints, homeshoring gives an opportunity to the employers to contribute to its cause. By avoiding the carbon emission from vehicles that in-office-employees might have used, they reduce it as the home based agents do not need to go anywhere and can work from home. Additionally, the employers can also provide work to individuals who, due to their disability, are unable to travel to a workplace.
These were benefits of homeshoring jobs for employers. The 'work at home agents' too get many advantages through homeshoring jobs.
Work Flexibility- The home based agent does not need to restrict their daily schedule. They can work according to their own convenience.
Tax Advantages- The home based agents might also get possible tax advantages by using part of their home for business purposes.
Career Opportunity for disadvantaged- Not moving from home for work provides employment opportunities for disabled or mobility-restricted workers like full-time carers, stay home moms, retirees who can once again be streamlined with the job market through homeshoring.
Work Life Balance- Homeshoring can balance work and life of the work from home agents as they can give more to their families and personal needs. They can even work when on vacation or while taking care of family responsibilities.
Monetary and Other Benefits- Homesourcing ensures a regular income, often paid on a weekly basis. Although, most of the companies appoint virtual agents on contract basis, there are some employers who treat the home based agents as regular employees and give them traditional benefits such as health insurance or a retirement plan even when thry do homeshoring jobs.
Requirements for Homeshoring Jobs
As the type of call center influences the job opportunities, so is the case with specific qualities the companies seek in their work-at-home agents. Depending on the nature of the job, a prospective virtual agent may need to possess special skills or a specific professional background. Apart from the professional qualifications, the homeshoring agents might be required to meet some technical requirements too. Most of the times, these include a dedicated phone line and office space in the home, a computer capable of running company-owned software, and any other equipment that may be listed as essential by the company.