Resume Tips
for Call Center Jobs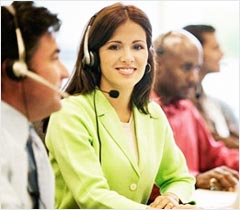 Call center careers have already become one of the top priority jobs among the youth of India. Majority of educated youth now want to join
BPO services
. In such a condition, the call centers receive hundreds of resumes to go through. If you are the lucky one, then only you get an interview call from the call cemters you have applied to. However, you are lucky or not, most of the times, depends upon your resume. If you have written the right information at the right place and in the right manner in your call center resume then only you will get a call from the company. Here are certain tips for writing resume for call center jobs. Read them and make a resume that will fetch you your dream job- the call center job.
Choose the Right Resume Format
There are three basic format of resumes for call centers. Select the one that highlights your professional experiences or skills or educational qualifications- whatever can fetch you the job.
Choose the Chronological Resume if you have had enough of professional experience. List your professional experience chronologically, with the most recent position listed first. Emphasize the areas of your expertise in customer service, CRM, Help desk solutions, or telemarketing/ telesales. Mention all areas of training and experience whether as a representative or in call center management.
Choose Functional Resume if you don't have a very long work history, have gaps, changing fields or just out of college. Emphasize your skills and any relevant experience that can help in performing call center jobs. Mention educational experiences. In such types of resumes, employment history is not written at all or is mentioned as a brief summary at the beginning of the resume.
Choose the combined format of chronological and functional resume if you have both- experience as well as skills. This is basically a functional resume followed by a short chronological employment history.
Before writing an impressive resume see some resume samples by searching the net or the resumes of your friends who are successful call center employees.
Tips for Electronic Web Resumes
Many call centers search for resumes on job databanks. It is therefore necessary for the aspiring job candidates to prepare a web resume too. Use keywords that can lead the employers find your resume in such web based searches.
f call centers are searching for management professional with customer service experience, your resume must contain such keywords as manager, managers, and management.
If you want to join a particular type of call center like CRM call center or Tele marketing call center, use terms such as CRM, Telesales or Help Desk, in your resume.
Use common fonts like Arial and Times New Roman to make e-resumes. Font size should be between 10-14.
Don't make any grammatical or spelling mistakes. Your resume will be rejected at the first instance on grounds of lack of attention.
Resume should be brief and concise. Don't write large paragraphs. Make one page resume. At the most, it should have 2 pages if you have extensive relevant work experience. Never print on the backside of the paper.
Call center resumes are only slightly different from the general resumes as you have to justify your skills and experience of convincing people as well as of your marketing skills (if going for telemarketing) combined with virtue of patience (as you have to deal with angry customers too) and eye for detail. Remember, your resume is your marketing brochure. Prepare it with caution and get your sample resume checked by your well wishers for getting that call center job of your dreams.